You want something special? You found the right guy!
Sculptures for shop window decoration, papercraft kits on a postcard, your company's Mascot as giant sculpture or just advertisement give-aways with papercraft kits that fit to your company? You name it, I'll make it.
I'm constantly working on commissioned projects. Once they are finished and approved for publication, I'll show it here!
A Wooden Cat:
Made for Eternity, this precious commission work is made from Lime Wood by a talented Italian Carpenter.
---
Steel Wolf
Doomed to rust: The 120cm steel wolf!
The same Wolf, powder-coated, now guarding my vegetables.
---
Steel birds! In cooperation with Edeleisen I developed two steel birds which where powder-coated in a decent blue for a client's facade.
---
In 2019 I've designed 3 kinds of Salamander for Corlife: A giant one, 140cm long, for a wall installation, a medium-sized as papercraft kit, which comes in a beautifully designed envelope and a small one for kids to color and assemble.
---
Developed and made the larger-than-life Streetsweeper Beppo for the DLD-Conference 2020 in Munich, Bavaria.
---

A 180cm wide bear relief for the fair booth of rhion.digital
---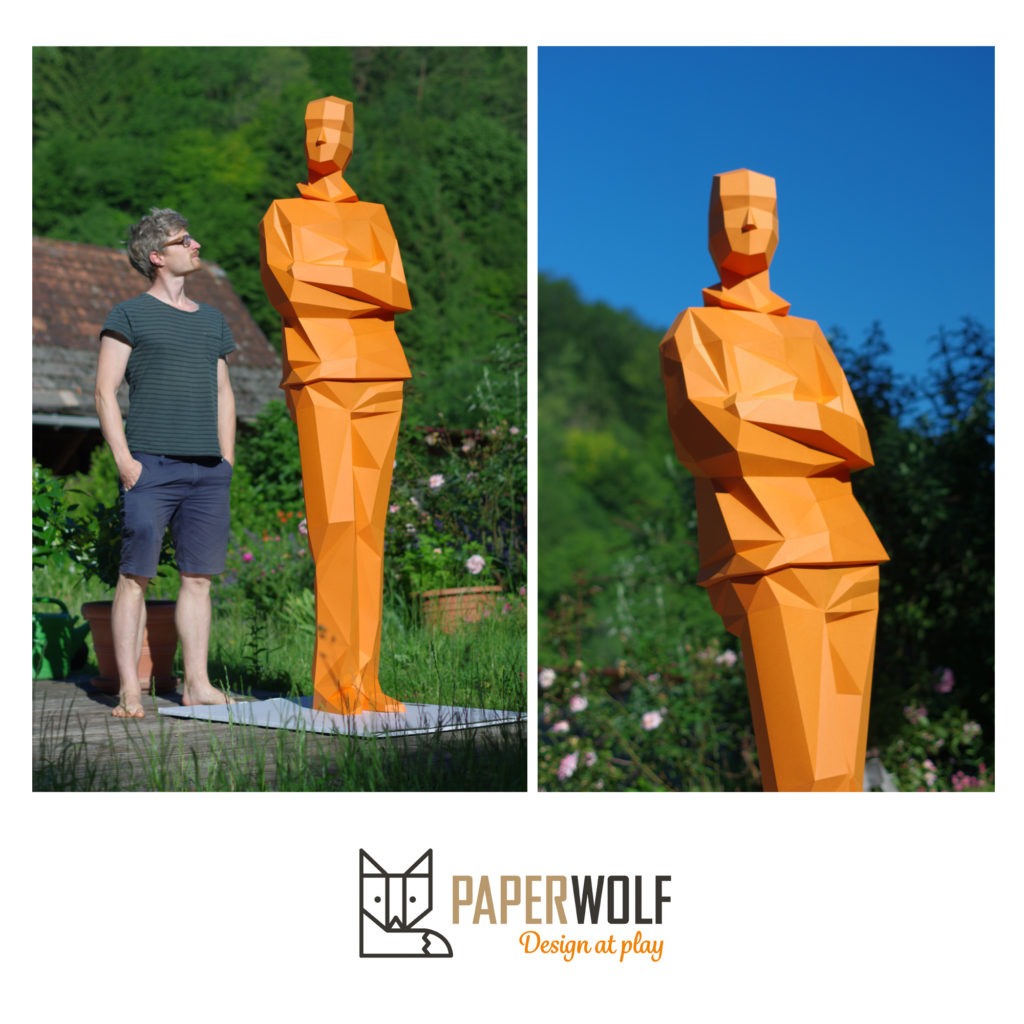 The sculpture was also made from acrylic with a little lamp in the base.
This huge 216cm sculpture was made form paper and glue. Nothing more.
---
---
The Steel Tiger. I designed this beauty for Alexander Domes who welded it from steel.
---
Collaboration with Schauwerk. I've built a 180cm Terracotta Warrior from paper which was displayed at ERCO exhibition booth on Light and Building, Frankfurt, 2018. For maximum stability I've built internal structures which I've tested on a scale model first. Big picture by Lukas Palik. Copyright ERCO GmbH, www.erco.com
---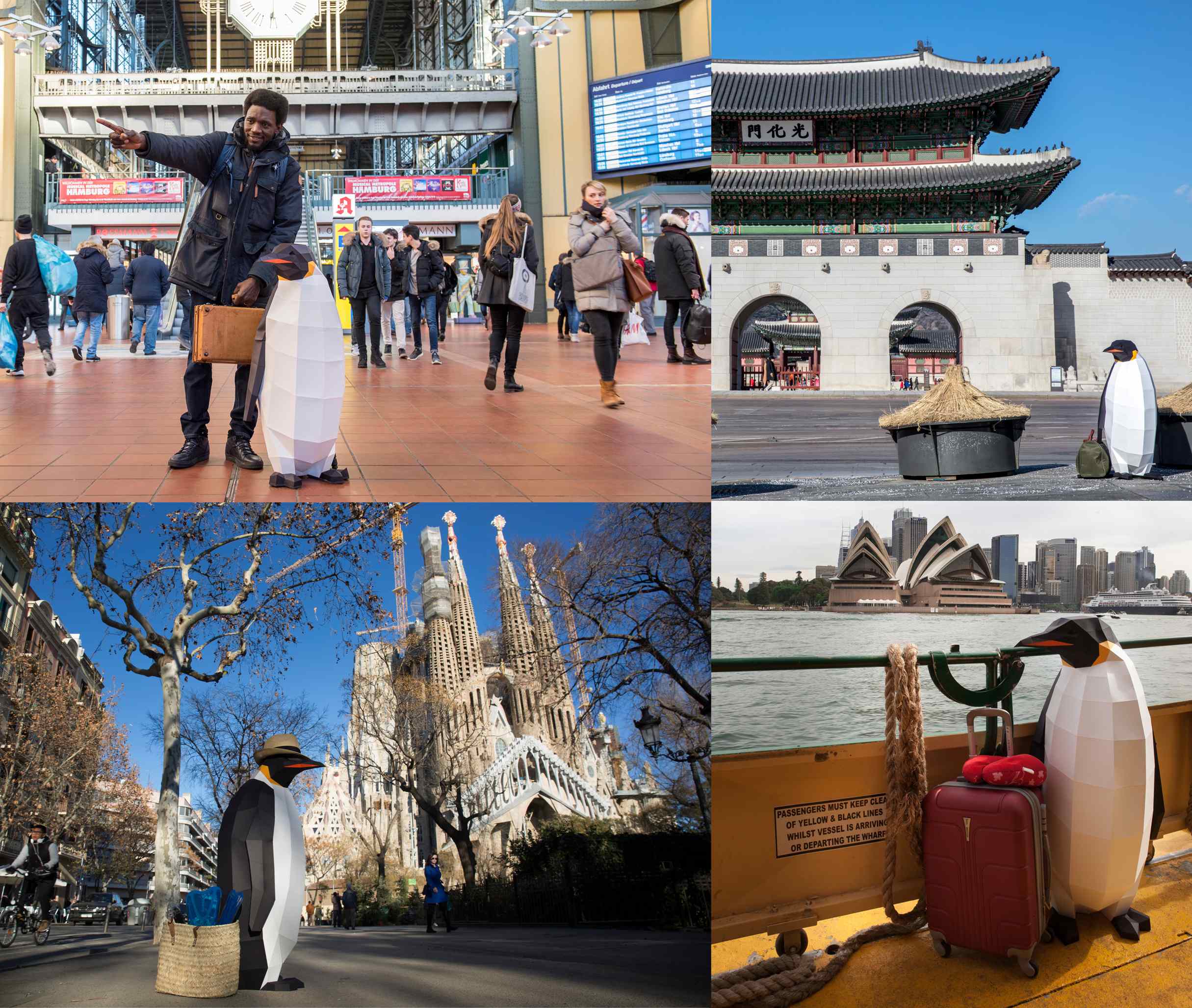 Model penguins are being spotted from London to Seoul, Buenos Aires to Sydney, and Mumbai to Washington DC, marching to the Antarctic to call for an Antarctic Ocean Sanctuary. Picture Courtesy Bente Stachowske / Zoe Jeanne Burrell / Ana Jimenez / David Jaemin Byun / Greenpeace 2018 For this exciting commission I've built 10 life-sized Emperor Penguins and shipped them to 10 countries on all continents. Part of the campaign "Protect the Antarctic"
---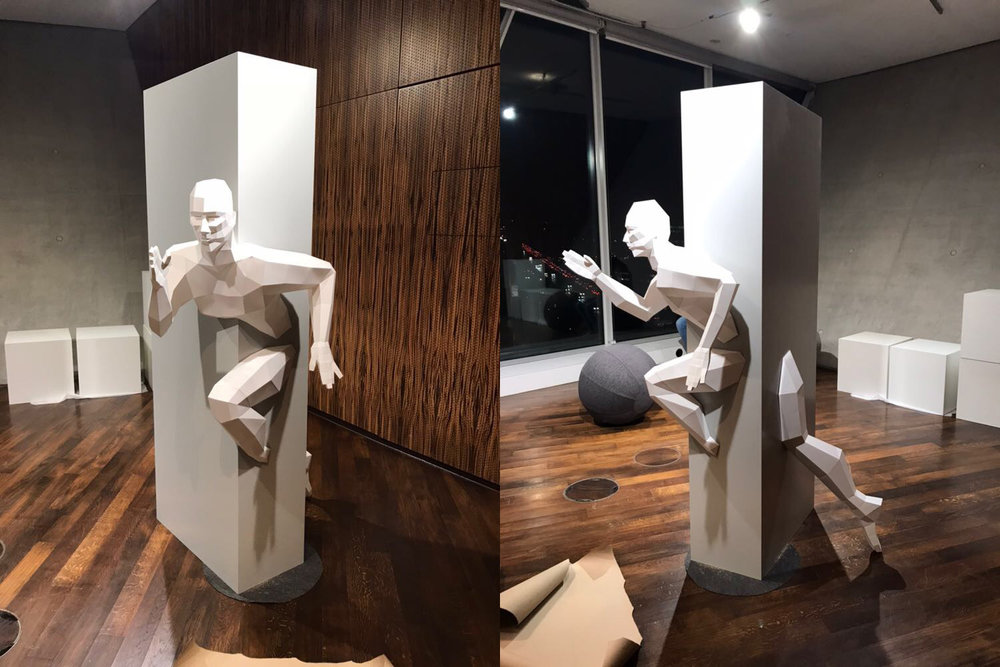 Life-sized sprinter sculpture for an event in the Mercedes Benz Museum Stuttgart. Client: mud-GmbH / Mercedes Benz
---
Concepts for climbing halls in Paperwolf style.
---
A one meter long, life-sized Jaguar sculpture for the campaign #stopthemachine in London.
---
Finally a Paperwolf sculpture made out of Steel! This Corten-Steel Ibex was made by Hugo Kröger. Over time, it will get a beautiful rusty finish:
---
Easter Bunny sculpture in several sizes: 35cm, 60cm, 100cm and 150cm. Client: Novartis Restaurant Cloud ein Betrieb der ZFV-unternehmungen www.ZFV.ch , Swizzerland
---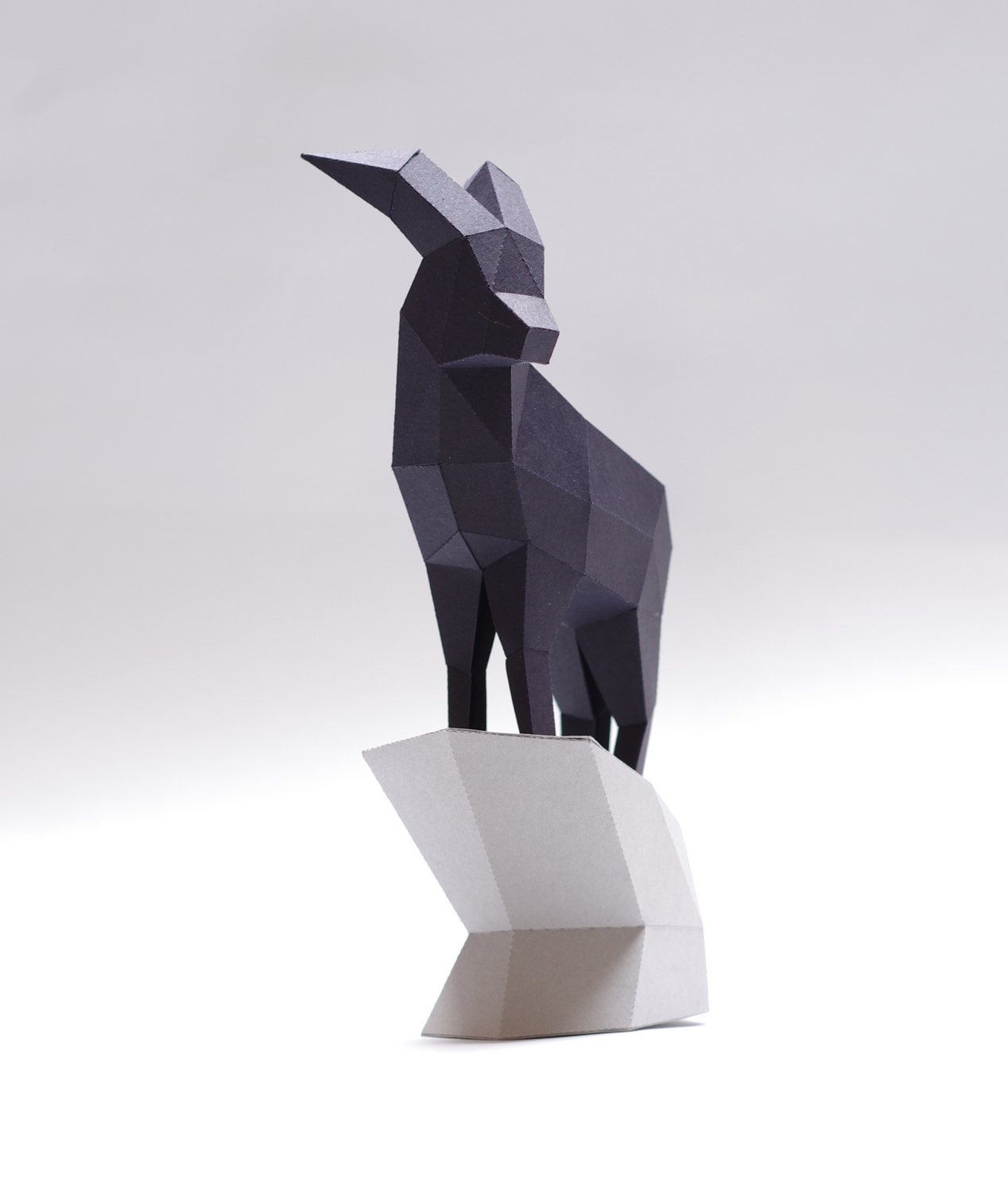 Ibex sculpture. Commissioned Work for TR!O GmbH, Innsbruck, Austria. Will be shown in TV ORF, Medallienspiegel in Gold, Silver and Bronze.
---
Commissioned work for Lucentive ag (Swizzerland). 12 huge animals for a charity auction in October 2016 at Zoo Basel. Picture curtesy of Konnex.
---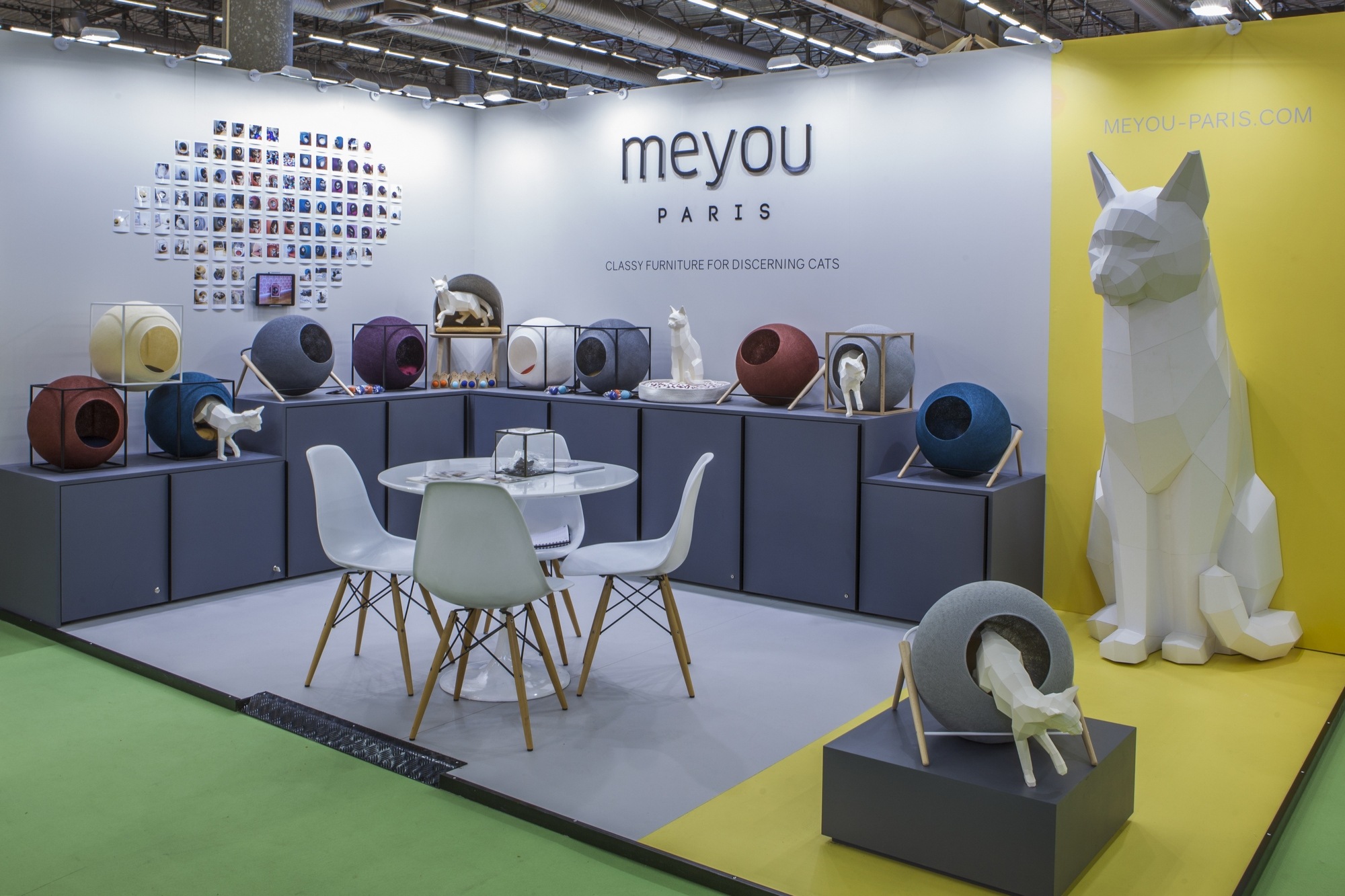 Cat design for Meyou Paris! I've designed the little cats coming out of the cat houses. And the giant cat which was built out of heavy cardboard.
---
Cooperation with South Korean industrial designer Jang WooSeok . The Kissing Coffee Lid in Paperwolf Style. Lower left: One of the paper prototypes.
---
I developed this geometric installation and remotely supervised the building process for UMBEL's Data Disco Party at South by Southwest (SxSW) in Austin, Texas, March 2016
---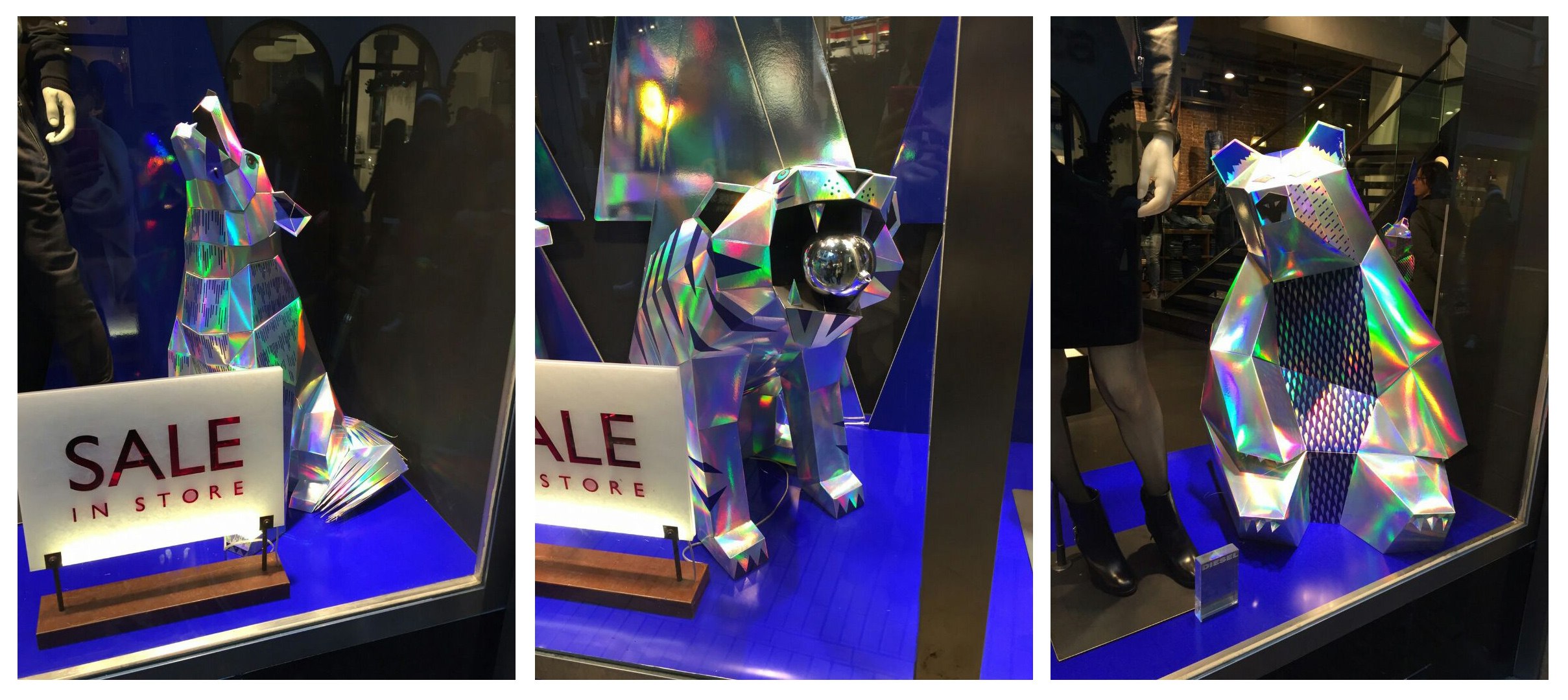 2015 shop window campaign for DIESEL fashion. Designed by Paperwolf, around 500 animals where produced (in Italy) and appeared around Christmas 2015 in the Diesel stores world-wide.
---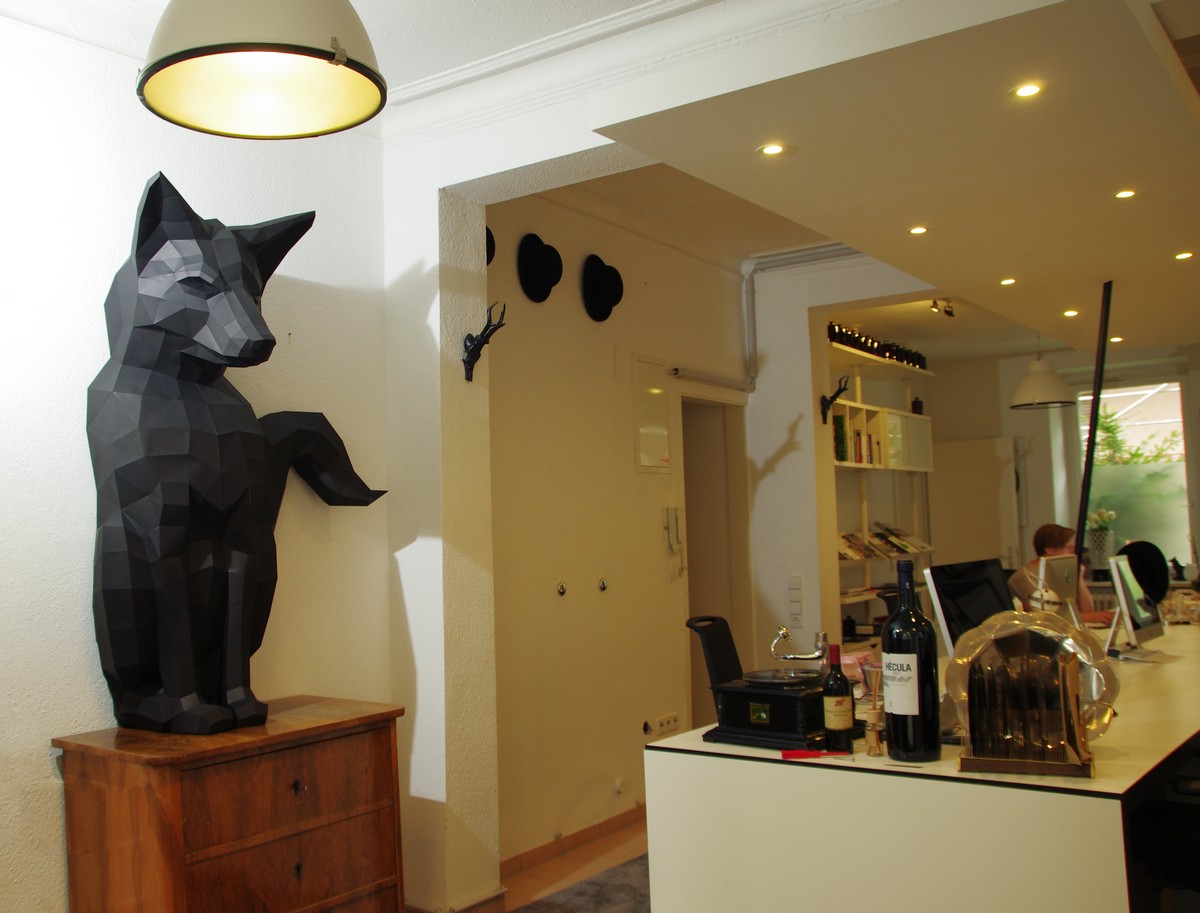 Big Black Fox for TeamPera, Agentur für Markenerlebnisse, Stuttgart, Germany
---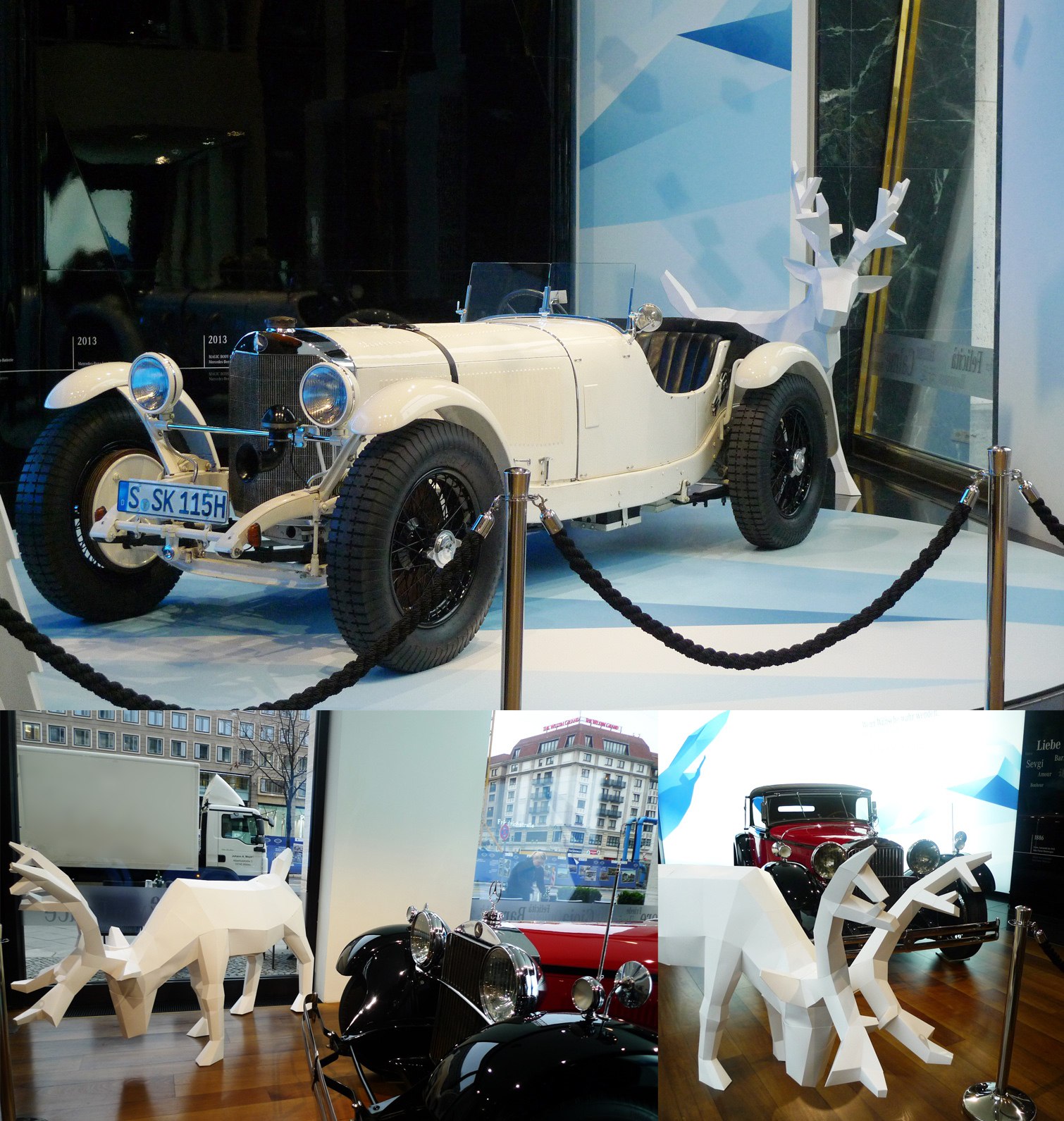 2 Reindeers for Mercedes Benz Gallery in Berlin
---
For Nubikk, I've designed two different Capuchin Monkeys and built each of them in 2 colors. Photos courtesy of Nubikk.
---
This mask was done for Fishing Cactus and their game "Epistory – Typing Cronicles".
---
I've developed a Pop-Up Invitation Card for the Stuttgart Dragon Days festival, organzied by Tobias Wengert. This is a limited edition vor the VIP guests. Dragon design by Silke Czarny.
---
Commissioned Work for "Eltern Family", a Giveaway papercraft frog was included in all of the 200,000 magazines!
---
Mighty Sabertooth Tiger! Commissioned Work for a private customer. Limited exclusivity with reduced developing fee. Now available in my shop!
---
Made for SimINN, flight simulator company in Filderstadt, Germany
---
Converted Logo Animal into a Fox Mask. Made for Veebimajutus.ee, Talinn, Estonia
---
Mini Papercraft Kits "Sitting Bear Family", developed for a group event. Each bear consists out of 2 elements and no instructions at all. Participants where still able to put together the animals.
---
Car on a Postcard. Commissioned work for a car repair shop's christmas give-away for their customers.
---